Gangster Holidays
GANGSTER HOLIDAYS - The Video transports you back to the "Roaring Twenties" and the "Busted Thirties" to re-live the fantastic stories of the midwest's most fabled gangland figures!


Explore Wisconsin's Gangland
Past!
PRICING & ORDERING
INFO. AT BOTTOM OF EACH PAGE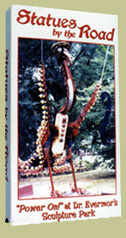 Statues by the Road
Enjoy Statues by the Road
and share the incomparable
delights of Dr. Evermore's
Sculpture Park!
"Terrific new documentary...
may be the most insightful
glimpse yet into Dr. Evermor's
artistic motivations!"

"Masterful...
contains revelations galore!"
- Isthmus

PRICING & ORDERING
INFO. AT BOTTOM OF EACH PAGE



The Old Masters of
Musky Hunting
A Celebration of
Musky Fishing Then & Now
"Must-see TV for musky fans!"
- Green Bay Press Gazette

"Mandatory viewing!
Honest, compelling
'how it was' video!"
- Milwaukee Journal Sentinal

"A quality production!
The memories are the meat!"
- Chicago Sun Times
PRICING & ORDERING
INFO. AT BOTTOM OF EACH PAGE



Musky Stories of
the Old Masters
- A Sequel -
Includes exclusive
interview with world
record holder
Louie Spray!

"If you love musky fishing --
or just love hearing a
good fish story --
get this video!"
- Green Bay Press Gazette
"86 minutes of
'edge-of-your-seat'
fishing tales!"
- Wisconsin State Journal

PRICING & ORDERING
INFO. AT BOTTOM OF EACH PAGE