*All
PRICING & ORDERING
info. at bottom of
this page *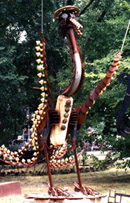 Enjoy
Statues by the Road
and share the
incomparable delights
of Dr. Evermore's
Sculpture Park!
"Fantastic...one
you won't want to miss!"
- Sauk Prairie Star
Enter the fantastic world of Dr. Evermor as he and Lady Eleanor tour you through their unique sculpture park. Among its thousands of works are the 70-piecce "world's only bird band" and the gigantic forevertron, half a city block long, four stories high,and at 400 tons, the Guinness Book of Records largest recycled-metal sculpture!
When, around 1980, demolition and salvage man Tom Every became disillusioned with society's course, he decided to reverse his own. Morphing into "time binder" Dr. Evermore, he stopped destroying things in order to preserve and transform beloved artifacts of industrial revolution engineering into dazzling, large-scale kinetic sculptures. And to escape the world's woes he built the mammoth Forevertron, a Jules Verne-Rube Goldberg fantasy machine crowned by a space capsule he'll someday use to "highball it to heaven!"
There are hundreds of animal, bird, insect and machine pieces with moving parts and chimes or bells to play. The artist's raw materials are both exotic and commonplace, coming, for example, from breweries, resale shops and NASA. The amazing result is a place suffused with an irresistibly uplifting spirituality. As one repeat visitor says, "Coming here always paints a big grin on my face, something no art museum has ever done!"
Forevertron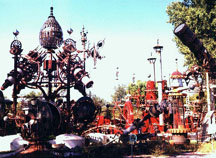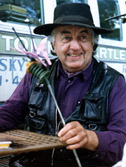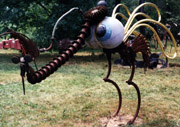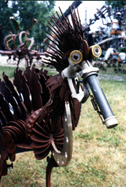 "A playful tour that makes
the hands-on sculptures
come alive!"
- Stoughton Courier Hub