*All
PRICING & ORDERING
info. at bottom of
this page *
Featuring:
Buckshot Anderson
Arnie Bergh
Gene Curtis
Howard 'Pop' Dean
Vern DeWitt, Jr.
Milt Dieckman
Lou Eich
Marv Elliot
Don Freund
Bill Gleason
Marv Heeler
Don Keister
Ray Kennedy
Carl Krueger
Frenchie LaMay
George Langley
Dick Lapp
Don Lapp
Neal Long
Jim Peck
Larry Ramsell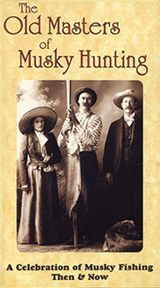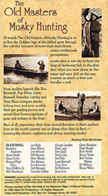 Also Featuring

Tony Rizzo

Ed Robinson

Jesse Ross

Gene Schaffter

Dick Sleight

Russ Smith

Bruce Tasker

Bob Vander Velden

Ed Walters

Bruce Wilsie
To Watch The Old Masters of Musky Hunting is to re-live the Golden Age of this fabled sport through the colorful accounts of more than three dozen senior northwoods personalities.
Learn what it was like to hunt the king of freshwater fish in the glory days when you were alone on the water and your skill on the oars counted as much as how you handled a rod.
Hear guiding legends like Ray Kennedy, Pop Dean, Larry Ramsell, Frenchie LaMay and Ton Rizzo compare musky fishing then and now, confide their pet guiding peeves and reveal their honest opinions of guns and women in the boat!
Best of all, experience their deep-rooted devotion to their outdoor lives in the north country and to doing what they do best - hunting the elusive, explosive and always amazing musky!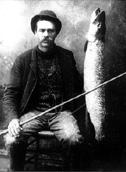 "Captures the lore and allure of early
20th Century big-time musky fishing!"
- Minneapolis Star Tribune

"A virtual oral history of musky fishing
in Wisconsin" - Wisconsin Trails Magazine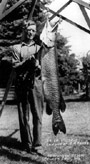 *All photos courtesy of the Wisconsin DNR
and are not featured in the actual video