*All
PRICING & ORDERING
info. at bottom of
this page *
Featuring:
Buckshot Anderson
Arnie Bergh
Gene Curtis
Bill Gleason
Marv Heeler
Don Keister
Frenchie LaMay
George Langley
Dick Lapp
Don Lapp
Art Oehmcke
Larry Ramsell
Ed Robinson
Gene Schaffter
Dick Sleight
Russ Smith
Bruce Tasker
Bob Vander Velden
Bruce Wilsie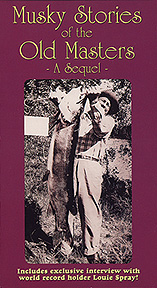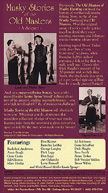 Also Featuring:
World Record Holder
Louie Spray!!
Hear world-record holder Louie Spray himself talking about two of his greatest angling accomplishments -one of which involved 69.7 lbs. of monster muskellunge!
Previously, the Old Masters of Musky Hunting outlined the history of northwoods musky fishing. Now, in the all new Musky Stories of the Old Masters, 19 of the original group of senior musky guides recall in detail their most exciting, awesome and hilarious musky-hunting adventures!
Guiding legend Bruce Tasker dryly describes a "very frustrating" six-footer, while Frenchie LaMay tells of pursuing a fish so big that it...well, you'll see! There's also Dick Sleight's account of his 50-pounder and, so help Russ Smith, the absolutely true story of a guy yanked right out of Russ' boat by a really peeved lunker!
Musky Stories of the Old Masters will absolutely wow you! Whatever you do, don't miss this matchless collection of edge-of-your-seat musky hunting tales from the astonishing glory days of the sport as told by the men who made musky history!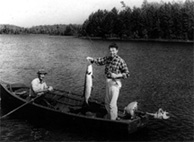 "Fascinating stories of encounters with truly remarkable fish...If you like musky fishing, you'll love this video!"
- Milwaukee Journal Sentinel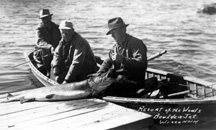 "The video maker's camera is a lens to the past!" - Minneapolis Star Tribune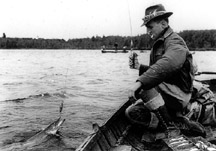 *All photos courtesy of the Wisconsin DNR
and are not featured in the actual video