Hayward Area


Anglers Bar & Grill
Bowling Alley &
Fish Fry Fridays!
Main Street, Hayward
715-634-4700


Coops Pizza Parloure


Dun Rovin Resort
& Restaurant
Flounder Fish Fry Fridays!
Homemade Cuisine
17 miles East of Hayward
on Hwy B
715-462-3834
www.dunrovinlodge.com


Elkhorn Lodge
Clam Lake, WI
Grand Pines Resort
Home of the
Original Famous Dave's
12355W Richardson Bay Rd.
Hayward, 54843
888-774-3023
715-462-3352
www.grandpines.com



Lakeview Golf & Pizza
Par 3 - Bar - Grill
Open 7 Days a Week!
10 minutes east of hayward
just off Hwy. "B". follow signs
715-462-3787




Lakewood Cafe
5158N S Main
Winter, WI 54896
Maximilian Inn
"Where Fine Dining Originates"
Hwy. 27/70
(11 miles south of Hayward
near Stone Lake)
15866 W. State Road
Stone Lake, WI 54876
Reservations Suggested. 715-865-2080
takeittothemax@cheqnet.net

Recommended by
Caught In Time -
Moccasin Bar
Tally-ho
Hayward's Most Elegant
Supper Club!
Friday night fresh fish special!
15 miles east of Hayward
on Hwy 77
715-462-3646
Recommended by Caught In Time - Always the best icecream!



West's Hayward Dairy
Hayward
Eagle River / Minocqua /
St. Germain / Three Lakes Area


Kirk's of the North II
4394 Twin Overlook (Hwy K)
Conover, WI 54554
(715) 545-2020
Tuesday's & friday's Fish Fry!
"This is a good restaurant with personable proprietors and excellent cooking. It has a warm, northwoods atmosphere & pleasant surroundings on North Twin Lake. Hot homemade soups, sandwiches, dinners."
Recommended by: Ron & Kathi (from Indiana), frequent visitor to the Eagle River area.
Norwood Pines Supper Club
Fish Fry Fridays! Extensive menu.
P.O. Box 876, 10171 Hwy. 70 W.,
Minocqua
(715) 356-3666
www.norwoodpines.com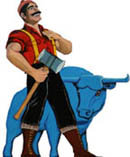 Paul Bunyan's
"Northwoods Cook Shanty"
A vacation dining favorite since 1961.
8653 Hwy. 51 N., Minocqua
May to mid-October.
(715) 356-6270
www.paulbunyans.com


Twelve Pines
3635 Townline Road
Eagle River, WI 54521
(715) 479-4734
Twelve Pines is another place we are "frequent fliers"......it has just changed ownership & we went there for the first time on our last trip north. We met the new owner, who was very friendly. Our meal of broasted chicken was top shelf. It is Ron's favorite place to go for GREAT broasted chicken. It is a family restaurant with a nice northwoodsy bar on one side. In the summer there is a nice outside patio where they also serve meals.
Recommended by: Ron & Kathi (from Indiana), frequent visitor to the Eagle River area.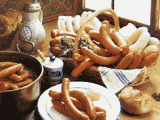 Octoberfest Bratwurst
Sampler 1
(If this link doesn't appear featuring
this item, please refresh the page)

Live in Illinois?
Can't make it up north & miss
that up north feeling?
These places genuinely appreciate and celebrate that northwoods Wisconsin feeling...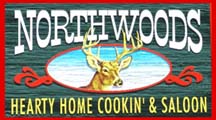 NORTHWOODS Hearty Home Cookin'
Where our roots began and where our hearts still are.
Our decor and ambiance are reflections of the casual comfort often found in Northern Wisconsin

968 E.Steger Rd -- Crete, IL
(708) 672 - 1167
---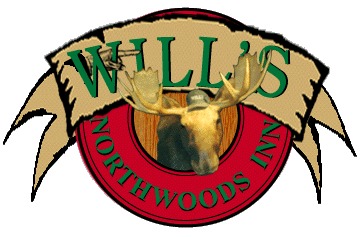 Hey Chicagoans! No vacation this year?
Visit Will's Northwoods Inn & get
"A Little Bit of God's Country in the
Heart of South Lakeview"

The Musky Fest 2006 ...
it was a big hit in Chicago!!

Roger and I, together with our friends Bob & Ellie, drove to this unique Bar/Restaurant for the first time. Actually, it was within 5-min. driving distance from our home address. Funny, we never heard about it until I discovered your great website!
To our surprise, it was packed... both rooms, and the street with tents and a rock'n roll band kept everybody jumping! We checked out the friendly atmosphere and inviting interior... the good-feel of the Northwoods could be felt everywhere, and that in the 'Windy City'!
Unfortunately, it was so crowded, we couldn't stay for dinner, but we'll go back to try it out again on a not so popular event date!
-- W. Bryne, Chicago, IL
*We try to keep our list up-to-date but still suggest you call before going to these places to be sure that the information is still accurate.

We'd like to expand this section with your personal recommendations!
Please email us with any suggested places to put in here -- please, only the very best bars & restaurants!
Our Viewer's Suggestions:
Hello , it's called "Ducklings" on 55 & Double T in Pickeral , Wisc. north of the golf course ......the place serves excellent faire all around. wow!!
a wisc. lover ,
gary lee
-2007