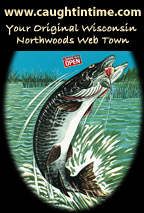 Site Map
Northwoods
Vacationland Album
Vintage northwoods
resort ads, memories
& souvenirs!



Northwoods
PhotoBoard
Post your favorite Wisconsin northwoods photos
for FREE!
*Special category for
Northwoods Hearty Home
Cookin' & Saloon Patrons!

Please bookmark us or
link to us:
www.caughtintime.com


*Look for us on Google
with this key phrase:
caught in time wisconsin

Help support our site
by buying through
our Amazon.com links!
You can buy more than
just books by using
this link!

Search for all things Wisconsin using this link!

Where our roots began and where
our hearts still are.

968 E.Steger Rd - Crete, IL
(708) 672 - 1167
We have our October 2005 Winner of our Food For Thoughts Raffle!
Thanks to all who participated in our "Foods For Thoughts" Raffle. We enjoyed reading all
of the wonderful Northwoods Wisconsin Memories that you have shared!

Read and enjoy all of the submitted memories !

Northwoods Hearty Home
Cookin' & Saloon
Crete, IL







Northwoods Hearty Home
Cookin' & Saloon
Homewood, IL



Northwoods Hearty Home
Cookin' & Saloon
Frankfort, IL

Our decor and ambiance are reflections of the casual comfort often found in Northern Wisconsin!

Whether it's our WILDERNESS WAFFLES, WISCONSIN FISH FRY SPECIAL or our LOGGING CAMP CHILI, our menu reflects heavily on our Wisconsin heritage. Some items are named after the towns we grew up with. Other items are taken right from Grandma's cook book. We hold a lot of pride in everything we bring to your table and we guarantee only the finest & freshest of ingredients in all of our recipes.

Our wide selection of menu items assures us that every guest will find something that satisfies their taste.

To visit our main site, please click on
www.northwoodssaloon.com
Top