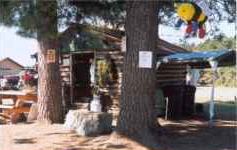 "15 Year Anniversary - 2004"
ANONDSON EQUINE, LLC
dba Appa-Lolly Ranch & Riding Stables
is family owned and operated for 15 years now, offering the same great "Full Service Riding & Training Center", well known for our safe well-trained horses and same, year after year excellent staff.
THEY'RE ALL BACK - YOUR FAVORITES! Guijuro, Fame, Appa-lita, Top Gun, Mighty Max, Shake That Bootie, Marshmallow, Stormin Norman, Pepi-San, Hunka-Hunka Burnin Luv, Jimmy Houdini, Colorado Bulldog, Faith's Contender, just to name a few....
Unlike many stables who sell their horses in the fall and buy new in spring - we keep our horses throughout the years. The advantage to this is to know each of our horses personalities and behavioral patterns. By the time our season opens, we know our horses are ready for guests, as we ride throughout the winter, keeping them in shape. Most of our riding horses have been bred, born, raised, and trained by us, so we "know" their potentials and safety abilities. All riding horses (all sizes & shapes) for our guests are never under 5 years old. When we say "We have a horse for anyone", we're not kidding...We suit you up according to your size and ability to ride.
We teach & stress safety & horsemanship and still have to date (knock on wood-ha!) -0- accident claim to 15 yrs now.
FYI: Many have asked through the years the meaning of our name. Very simple (& fun) Lolly Benson Johnston (8/14/50 - 10/24/99) founder of Appa-Lolly Ranch loved Appaloosas for her type of business, so instead of saying "Appa-loosa", so came the name "Appa-Lolly..."
Shania Twain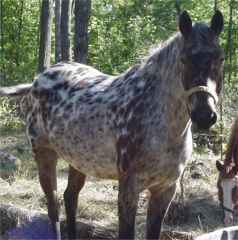 Guijuro & Gemini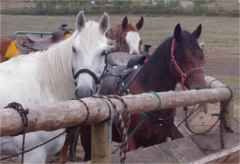 Outdoor Fun for All Seasons!

Unique 1-2 Hr. Trail Rides ...
($22.00 & $38.00)
Scenic Trails - over
100 Acres + See the Namakagan River
Double Rider - Child 6 & under...
(Additional $13.00)
Picnic Lunch Rides...($48.00)
Over-Night Camp-Outs...($48.00)
Memberships...(Varies) 2 Hr. Gaming Rides
(1 hr. ride - 1 hr. in arena)...($48.00)
Advanced Rides (Longer Trails & Loping)...
Barn Dances...Creative Package Deals...
Gift Certificates...
HayRide/SleighRide's w/Bonfire...
($12.00 pp or min. $76.00)
Field Trips...Horse Awareness Seminars...Arena Rental...
On-Site Party Bookings...Appa-Lolly Memorabillia...
Group Discounts...
($2.00 off P.P. w/Groups of 10 or more)
Seasonal (Free) Petting Zoo...
& Much More!
MEMBERSHIPS - CLINICS - FIELD TRIPS
LESSONS - BOY/GIRL SCOUTS - GROUPS
WE LEASE - BOARD - TRADE - TRAIN
RESCUE - ACCEPT UNWANTED
AND OCCASIONALLY BUY.
WE SELL "KID SAFE / GRANDMA SAFE &
WELL TRAINED HORSES.