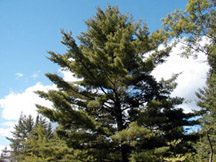 Thanks to the
Sawyer County
Historical Society
for making us aware of
Eldon Marple and his contributions to
the northwoods of Wisconsin
www.sawyercountyhist.org

Eldon Marple
The Visitor Who Came To Stay

By Andrea Marple Wittwer
Originally printed in the Trail Blazer Magazine


Eldon M. Marple came to northern Wisconsin as a young boy in 1911. The farm his father built on the fertile Round Lake flats became the focal point for Eldon for the rest of his life. The unique legacy my father left to the Northwoods was his collection of writings for visitors to the area under the simple heading "Historical Vignettes" in Hayward's Visitor magazine.
Eldon wrote for the Visitor for 25 years. Each of his articles was carefully crafted and finely detailed. Eldon regarded his writing as art and devoted much of his time to researching, writing and editing each of them. I will always remember my father sitting quietly by the window in his big chair listening to classical music and writing on a yellow legal pad. He was surrounded by music, old photos and his odd collections of pens, pencils and paper. He was never too busy for small talk although he always had a deadline to meet.
Several basic themes emerge to the reader of the Visitor "Historical Vignettes". In the over 200 articles published since 1966 Eldon focused on the unique forces that blended diverse cultures in the first forty years of Sawyer County's development. Conservation of our plant and animal resources in northern Wisconsin was a subject of deep concern in our home and in Eldon's writing. Agriculture and forestry were reoccurring subjects. Establishing the location of historic sites was another constant interest for both of my parents. Locating these sites required trips to libraries all over the state, comparing thousands of photographs, as well as hours of laborious copying and studying of maps. Because of these interests my parents were apt to stop in and interview people along their frequent tours of the countryside. They were well known to suddenly dart off a main road into the middle of nowhere, building corduroy roads, fording creeks, climbing hillsides and roaming the forest paths on foot, in a car, their old beat up van, a snowmobile, or three-wheeled contraption. Many times they even took their canoe or our boat, "The Wooden Shoe", out to view a site from the water. Eldon always carried a camera on these occasions so we have many photographs with his cryptic notes for identification.
My dad's roots went deep since he came to the northwoods from Missouri as a young boy. He settled at the farm in 1914 when he came to be with his widowed father. Eldon preserved the "claim shack" out back at the farm. No matter how far away mom and dad traveled from here, they always returned to the Marple Farm.
Eldon graduated from Hayward High School in two years, and graduated with a B.S. in Agricultural Education from the University of Wisconsin. His first wife, Edna, was killed in a car accident not long after the birth of their son. He met and married my mother, Mary, while they were attending college. After college he found work teaching in northern Wisconsin. With the Depression looming the young couple took all of their possessions to California to look for work, but returned to Wisconsin within a year. Dad was a technical foreman for the Forest Service Civilian Conservation Corps at Camps Smith, Lake, Brule, Minong and Ladysmith. This was a special time for dad as he supervised mapping of many areas of Sawyer County and established the pine forests that towered over him in his later years. In 1941 the Marple family moved back to California and dad took a job as a farm agent for the Indian Service. The following year he was the maintenance superintendent of grounds for the National Housing Authority projects in California. He moved up to a grade 10 in the Civil Service. Mostly due to mowing all the lawns with old tractors.
It seemed that much of dad's training and career direction prepared him for the next stage of his life. After WWII he was recruited by the United Nations Relief and Rehabilitation Administration to take a team of men and women to Germany to aid in the relocation of thousands of displaced persons. Dad became an excellent administrator in the DP camps at Ulm, Augsburg, Wasserberg and Mittenwald-Garmish as he reorganized and restructured resource delivery systems. He began as a team leader and was promoted to area director. In 1947 Eldon again signed up to go overseas, this time to China for eight months as an agricultural farm machinery specialist. He taught modern farming techniques, machinery maintenance, educated 20 little Mormon boys to teach the Chinese how to repair Ford tractors and developed cultivation for the local Chinese. In 1951 the Marple family moved back to Hayward. Farmed and Eldon was drafted to teach agriculture to war-veterans through the Winter High School. But in two years adventure called again, and dad was sent to Java by the Federal Government as a machinery specialist. When dad returned stateside in 1953 he began a new career as a landscape contractor. Carrying the idea of using small tractors into the rapidly developing suburbs of the Midwest, he began Contractor's Landscape Service in Salinas and then Arlington Heights, Illinois. For eleven years Eldon spent the hot summer months working in Illinois running a small landscape crew. During the winter when dad couldn't keep his crews busy, we traveled the country from north to south, from Maine to Washington, from the Florida Keys to Teotihuacan, Mexico. As the years passed the summers melted into fall and mom wanted to stay in Hayward. We began remodeling the farm and in 1960 dad retired to be with us at home.
Dad's heart was weakened from a childhood bout with scarlet fever and several severe infections he got while in China and Indonesia. He had multiplied that problem with the stress in the Chicago area, so the doctors told him his retirement might be shortened. But dad was never one to "lay down and die." He rejoined the community in Hayward with gusto. He understood the reasons for rural poverty and used his administrative and organizational skills to work with Impact Seven, the Community Action Agency, the Census, C.E.S.A., and the Regional Planning Commission. He joined the Historical Society, worked on the genealogical forest he was growing for the Lac Courte Oreilles Tribe and began writing seriously. He was a substitute teacher for Hayward School District and served on the Sawyer County Board of Supervisors. In 1966 he met the Millers, the editors of the Visitor magazine in Hayward and began a 25 year commitment to local history and social studies. Our farm became a Mecca for those doing historical research about northern Wisconsin. Dad collected cars, tools and old lumbering artifacts. He and mom went to auctions for the socializing aspects, and he interviewed everyone. It was the summer that I returned from college to the farm that disaster struck the family. In 1978 a fire of unknown origin started in the living room of our home and it burned to the ground. We lost some of my grandparent's antique furniture and everything mom and dad had collected for all of those years.
The fire at the farm not only burned our home, it burned my parent's library, our family pictures and ruined many of dad's historical artifacts. The valiant efforts of our fire department and neighbors saved many of the file cabinets in his office and his desk which contained many of his negatives, photos and records. For years he carefully went through burned boxes of papers trying to copy relevant materials although they were badly singed around the edges. Dad was terribly shocked, but in his characteristic way he and mom just started over again. They had not lived through the Depression, raised eight of their own kids and dozens of others, and endured years of hard work just to give up. They cleaned up and went on with their lives in a similar dwelling.
In December of 1991 Eldon was smitten by a stroke while napping at the farm. He never regained consciousness. He had spent the morning at the Co-op in Hayward having breakfast with the family and talking to his friends in the Mall.
I often asked my parents to write a journal of their lives because I thought it would make interesting reading for the general public. It is a shame that dad was more interested in local history than in his own, but his eyes were always looking for the next adventure, not the one behind.