Antigo

I know this is the place where the beloved "Menards Guy" lives. Probably have his house on some sort of celebrity tour. Anyway, Antigo has a fairly nice downtown with a couple of bars and restaurants. They also have a race track in the winter time for snowmobile races. It's a great place for ATVing. They have a couple of loops for summer and in the winter the snowmobile trails are open to both snowmobiles and ATV's. The little towns around the area are great to stop at, the Polar Country Club (I think thats what the bar is called) was just rebuilt a few years back after it had burned down. There is a lake (Muellers Lake) on the edge of town. You see it from the highway, it's down in a hollow and the water is an emerald blue green. Also the little town of Neva just up the road from Antigo has two nice bars--Kools Klub and Rev's. Both places were fun to stop at and we always make time to stop at them when we are on the trails in the winter. North of Antigo is a chain of lakes, don't remember the name of them, it's supposed to be where Bart Star has a lake home.
Black River Falls

Probably one of my favorite areas, everybody has to see the orange Moose along the Interstate, its pretty cool. It has most every type of terrain you can think of. Lake Arbutus, in Hatfield, has two large beaches and a State Campground on it. This is also at the end of an ATV trail. Lake Arbutus is a dammed lake on the Black River which flows south from Hatfield to Black River Falls. Black River Falls is kinda a central area for ATV's, they have camping just behind the Arrowhead Hotel at a private campground. Also farther North of Black River is a great campground called Rock Dam. It's on a small dammed lake. The Dam is horseshoe shaped. The campground is across the road from the lake and on the creek that flows out of the lake. A couple of the campsites sit above a natural waterfall. It's very peaceful if its not on a Friday or Saturday. People love it there, so they told everyone they know. It can get crowded come the weekends. This also is a central location for anyone on ATV's. The first place to stop should be the Hay Creek Inn. Very nice couple run the bar and a beautiful view of the lake. From here you can head down towards Hatfield. The first place to stop is Wild Rock. It used to be for Horse camping, loading and unloading. Campgrouds have now been added. Another great place to stop is at Wildcat Park. You can hike the bluffs and picnic. It's cool because you can hike to the top of a bluff, look out, and not see a single house, road or sign of human life for miles. Nothing but trees and the bluffs in the distance. You can reach this by car or it is right on the ATV trail. From here you can head down to Lake Arbutus. Very scenic ATV route. The other direction from Rock Dam is also a nice trip on ATV's. Up the trail from Fairchild and just off of Highway 10 (I think) is a cool bar, Whit's End. Great place to stop. The owner of the bar saved me when I was in a jam once. My trailer blew a bearing on the way to Rock Dam (luckily made it to the campground), we figured we would have to wait until Monday to get a new part, fix the trailer and hopefully have it done Monday to go home. We went riding Saturday, stopped at Whit's End. I was talking to the owner of the bar telling him about my trailer. He got the phone book out, called ahead to a parts store in Osseo that was closing at Noon and had them deliver the parts to the bar. Made my weekend! Farther up the trail is the little town of Strum. Pretty little town with a small lake. Everyone should stop at the Foolish Pleasure in downtown Strum. Ask for Pac, she's the feisty wife of the bar owner. She's a small Asian lady that can keep anyone in line. She had all of us laughing the whole time, we make sure to go back every year.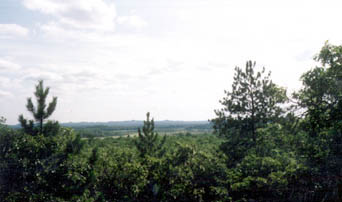 Black River Falls
Amberg
Tiny little used to be mining town north of Green Bay. Several waterfalls in the area well worth the hike into to see. I have a friend that lives here. Unique little historical museum that also is worth the time to see. Several very good ATV trails in the area. Some of the waterfalls are very near the trail system.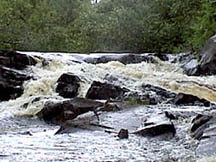 Amberg Horseshoe Falls
Copper Falls
It's a State Park outside of the town of Mellen on the Bad River. Has huge waterfalls, a trail system and lookout tower. You will need a camera. Well worth visiting.
Cave Point County Park in Door County
Just north of Sturgeon Bay on Lake Michigan. Lots of sea caves to see and hear. Exceptional in the spring when all the water freezes onto the rocks.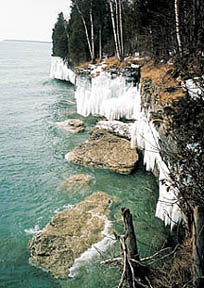 Cave Point County Park

Not in Wisconsin...but close enough and beautiful enough that
we'll include it...
Presque Isle
And of course, you should mention the great UP of Michigan. Presque Isle park is a place everyone should stop at. It's on the shores of Lake Superior. Huge waterfalls and a nice boardwalk. Again you will need a camera. You can also go down to the lake and search for agates or any other type of smooth Lake Superior stone.
If you need map directions to any of these towns,
please use this link:
Yahoo Driving Directions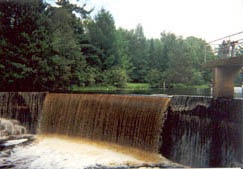 Rock Dam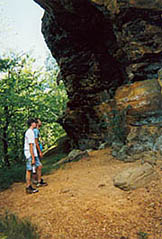 Wildrock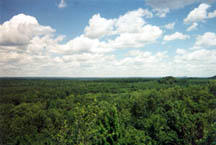 Bluff Top at Wildrock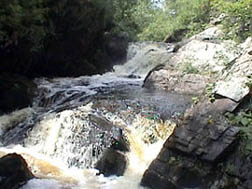 Amberg Waterfall
---
If you have a great recommendation, tell us!
Email
your story to us!
We will re-post the best recommendations in
this part of the site!
---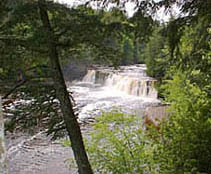 Presque Isle