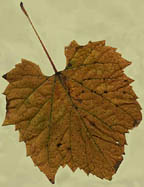 NATURE'S PAINTBRUSH AT WORK
Autumn Golf in the Hayward Area
by
D. James Tindell
(Originally published in Western Wisconsin Golf Journal, 2003)
The golf cart winds up the gravel path, through stands of towering trees, and comes to a stop. The golfers step out and onto the tee box, and they stop and stare. They're at the gold tee of Teal Wing's signature hole, the 15th, and it looks like something out of a coffee-table book on famous golf holes. A 149-yard par 3, the statistics are almost insignificant as the golfers gaze down to large pond, then to the shamrock-shaped green, an emerald amidst the surrounding trees ablaze with fall color.

Playing Teal Wing in the early autumn is a luscious combination of challenging golf and almost overwhelming natural beauty. From the time the Ross family opened the course in 1995 to complement its nearby resort, Teal Wing has earned its reputation among golfers and naturalists. On the front nine, play alongside the Teal River and hear the bugling of elk. Hike or cart through the towering hemlock forest on the back nine and watch out for deer and bear. Watch out for otter and beaver as you drive over the wetlands that serve as the course's water hazards.

Golfers used to courses with wide fairways and gentle rough can find Teal Wing a bit daunting, until they accept its challenges. "It's visually intimidating to the players," says club pro Phil Meyer. "The most challenging part is not trying to overpower the course, try to use short irons and play position golf. It's a thinking man's course." Much thought was put into its design, as well. Teal Wing was drawn up with Audubon Signature status, ensuring an environmentally friendly design. "The land formed the course," Meyer says. The relatively few trees that were felled to form the course actually supplied the wood for storage and maintenance buildings. Each hole is posted not only with its layout and distance, but naturalist's notes about the hole's flora and fauna.

The wide variety of standing trees contributes to the stately beauty of the course, enhanced by several factors when fall arrives and leaves begin turning shortly after Labor Day. The course remains open through mid-October, providing late-season golfers with the best of both worlds: great golf and great scenery. A par-72, 6379-yard course with five sets of tees and a driving range, Teal Wing is located 20 miles northeast of Hayward on Highway 77. Call 715-462-9051, or check their website at www.tealwing.com.

The word is getting out among Twin Cities golfers about the autumn splendor of Siren Glen Golf Club, two miles southwest of Siren in Burnett County. Wisconsin golfers have known about Siren Glen since it opened in 1999, and its fifth fall season this year will draw players from both states to be challenged by the course and dazzled by the colors.

The 18-hole course was cut out of virgin forest and provides a par-72 layout over 6672 yards with four sets of tees. Designed by T.L. Haugen, the course gives players a modern course blended with natural woodlands and wetlands. There are 16 varieties of trees on the course, from spruce and fir to aspen and maple. "You name it, it grows up here naturally," says General Manager Jim Hammer. Water comes into play on eight holes, usually in the form of wetlands. Many golfers find that dealing with wetlands is even more intimidating than traditional water hazards, as if the thought of seeing your ball vanish into a swamp is more daunting than watching it splash into a pool. Perhaps it's because you might be tempted to go into a pool after a ball, but not a swamp.

What's the biggest challenge for Siren Glen golfers? "Learning its nuances," Hammer says. "Every hole is so different. If you can practice sound management, you can shoot a good score."

Siren Glen's signature hole is the 3rd, a par-3 in which the green sits atop a ledge faced by a 25-foot-high stone wall. "It looks very intimidating," Hammer says, "but the ball doesn't know the difference between a wall and a bunker, so you just have to place your shot."

Much attention was paid to the environment in laying out the course. The cart paths meander along the fairways and through stands of trees, and golfers who walk the course in the fall frequently find themselves taking a bit longer than usual, just to take in the scenery. Walking the course is also a workout, as it varies more than one hundred feet in elevation. Designer Haugen told the St. Paul Pioneer Press that if Siren Glen "was on the ocean, it would be the best golf course in the world." That's music to the ears of Jim Hammer and his wife Colleen, who brought the course through two severe rainstorms in 2000 and then the June 2001 tornado, which felled some sixty trees on the course.

Siren Glen has not only survived, but also thrived. To play this jewel of the Northwest, call 715-349-8000, or toll-free 1-866-SIRENGLEN. Check out the course's website, www.sirenglen.com, for more information.

Natural beauty blends smoothly with 21st century golf and, some would say, 22nd century technology at Forest Ridges near Cable. Bordering the Chequamegon National Forest, the course is completing its eighth season as the companion course for Lakewoods Resort, which is approaching its 100th anniversary. "It's been a great complement for us," says Forest Ridges General Manager P.C. Rasmussen.

Noted golf architect Joel Goldstrand designed the course, an 18-hole, par-71 layout that stretches 6069 yards through the forest. Featuring plenty of wetlands and standard water hazards along with challenging elevation changes, Forest Ridges takes advantage of terrain cut thousands of years ago by glaciers. "The way the layout is, it's cut right through the glacial terrain," Rasmussen says. Fairways are standard width, but the closeness of the forest gives the impression of playing a much narrower course. With natural forest and terrain barriers between holes, golfers feel a sense of privacy, says Rasmussen. "You have a sense you're the only one on the course."

Forest Ridges has not one signature hole, but eighteen. The most notable is number 13, a 170-yard par-3 from an elevated tee to an elevated green. Golfers have to carry their drives over a woodland lake 40 feet below. Wisconsin Golf featured this hole on its cover in 1995, and the course received a three-star rating from Golf Digest in 1998.

Perhaps the most distinctive feature of the course combines nature in a near-primeval state, and technology right out of Star Trek. The layout of the course discourages even the hardiest walkers, Rasmussen says; "it makes for a rider course. We encourage people to ride." Greens fees include the use of a cart, and each cart is equipped with ParView, which utilizes high-tech Global Positioning System on-board computers to feature real-time course info on drop-down LCD panels. Golfers can see exactly where they are on the course, distance to the pin and their updated scores. The computer can even display a leader board for tournament play. ParView also allows golfers to place lunch orders from their carts as they approach the 9th and 18th greens, and their meals are ready when they arrive at the restaurant following the round. In the event of emergencies, golfers can use the system to communicate directly with the pro shop, which can also alert golfers to weather hazards. "It really helps people who are coming up to play here," Rasmussen says, in what is surely an understatement.

Lakewoods Forest Ridges offers some of northwest Wisconsin's finest autumn golf and accommodations. Call 715-794-2698 to reserve a tee time, and check out their website at www.lakewoodsresort.com. It's located eight miles east of Cable on Highway M, and who knows, you may run into Captain Kirk while you're there.

Jim Tindell of Sun City West, AZ, father of the author, tees
one up on Teal Wing's driving range.
The signature 15th hole at Teal Wing, 149 yards, par 3.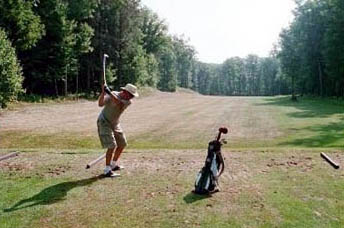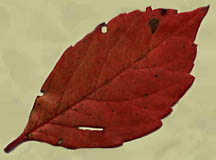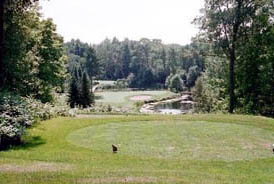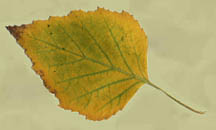 Special thanks to D. James Tindell,
and the
Western Wisconsin Golf Journal,
for making the story available to us.