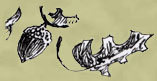 WRITING FOR FUN AND, HOPEFULLY, PROFIT
The Northworders
by
D. James Tindell
(originally published in Trail Blazer, 2003)
They meet once a month to brainstorm ideas, critique and support, to plot and scheme. They debate the best course of action, they laugh and occasionally shed a tear. They are comrades, and they are determined to overcome any obstacles to reach their collective goal.

Put down the phone, you don't have to call Homeland Security. They're no threat, except perhaps to the peace and quiet of their meeting place. They're writers, and the plots they craft wind up on the printed page, perhaps a page you'll read someday. They hope so, because they are the Northworders, and writing is what they really want to do.

The group formally came into being in August 2001, after a year or so of meeting as an amorphous but somewhat unorganized group of folks interested in the art and craft of writing. The Northworders stated purpose, from the group's bylaws, is "to foster the development of local authors' work through honest but fair criticism; to provide encouragement and inspiration to those authors as they write and submit their work for publication; and to provide a support network for those authors." The group collects no dues or fees, but its members are serious about their calling. Serious enough that several have already had their work published, no small feat even in the best of times.

Sue Burgess grew up in the Milwaukee area, attended UW-Milwaukee and became a teacher of English, speech, and drama, even physical education. But, in words virtually every member of the Northworders can relate to, she says, "I always wrote. As early as fourth grade, I was taking notes. I've always been fascinated with words."

Burgess' first official writing job was for a church publication in Fort Atkinson, which led to a post with The Janesville Gazette. Eventually, her contacts in academia led to a job writing biographies for the American Association of University Women. Eventually, Sue and her husband Tom, a magazine editor, moved to the Hayward area. "I thought the solitude of the woods would be a perfect place to write," she says. That has certainly proven to be the case.

Sue and Tom recently finished a major project, editing Tales of Lac Courte Oreilles, a history of the Hayward lakes area. The book has proven to be a hit, and is currently entering its second printing. What's up next for Sue Burgess? Mutter, a novel of German and Danish immigration to Wisconsin in the 19th Century. The central character is based on Sue's great-great-grandmother.
Ray Hursh has seen a lot of the world in his sixty-plus years. Raised in Superior, Hursh attended colleges in Wisconsin, Minnesota and California and has worked in various jobs, including athletic trainer and as a waiter at fine-dining establishments, including The Hideout near Couderay. Along the way he learned the piano and dabbled at writing. He never got serious about writing until 1997, when he entered a contest at the LCO Community College and took first prize. Not long afterward, Hursh's poetry was published by the International Library of Poetry.

What's the best thing about poetry for Hursh? "The challenge of phraseology," he says. "You can't use the same phrasing for different styles. You might want to say the same thing, but you have to change it based on the style." Hursh has written poems in a wide variety of styles, including the sonnet, terzarimi, blank verse, rhyme schemes and haibun, an Oriental style that includes prose and haiku.

Hursh's latest volume, Silk Clouds and Velvet Dreams, was published this year. It's his first solo work, but he's also had poems published in the United Kingdom, making him the first Northworder to be published in a foreign country.
Ray Hursh isn't the only poet in the Northworders. Lorayne Wick and Betty Haling have also had their poems published in various magazines and online. Wick started out as a professional singer, traveling the Midwest in the early 1940s as the vocalist for a group that featured Russian folk music. She met her husband Ken in Plymouth, Wisconsin, while on tour. After he returned from World War II, the Wicks started a family. Ken became a jeweler and Lorayne a teacher, getting her degree in art education at age 50. Lorayne had to run the family jewelry store after Ken's passing, as well as teaching grade school art and music. With the help of her family, she succeeded at both.

Wick first came to the Hayward area in the early 1960s while on gem-hunting expeditions with Ken, and years later she decided to make the move permanent. That's when her desire to express herself in poetry and painting started to show itself. "It just sort of comes out," she says today. "Sometimes I wake up with one," and a new poem or painting is soon born. She gets inspiration from nature and personal experience, not all of it good. One poem, "Terror", came out of an armed robbery at the family's jewelry store, when the thief held a gun to her son's head.

Betty Haling grew up in northeast Iowa, majored in psychology in college and became a teacher. She and her husband Russ came to the Hayward area some 25 years ago. Today she serves as secretary of the Northworders, and credits the group with cranking up her creative juices. "The Northworders was the impetus for me to write more," she says. Her collection of poetry, A Look at Life, was published earlier this year.

"It's observations of nature and people," she says. "I don't go by form, I just put it down as it comes to mind." She finds the natural rhythm of poetry perhaps a bit more easily than others, thanks to her background as a percussionist. Living on Moose Lake is also an inspiration for her. Haling's goal is always to write poetry that the average reader can understand. "I like it when a reader says to me, 'This is the kind of poetry I like. I can read it and don't have to struggle to figure it out.'"
Dave Tindell wrote short stories as a youngster in southwest Wisconsin, and won awards for them while studying broadcasting at UW-Platteville. The writing waned as his radio career waxed, but a few years ago he took up the pen again at the urging of his wife, Sue. The result was his first novel, Revived, published in 2000. It's a story of a romance that begins in the mid-1990s and nearly ends when the heroine develops terminal cancer. Her fiancé has her frozen, and then revived in 2032, and she struggles to adjust to her new world, which includes more than the expected challenges: her senior-citizen lover, his war-hero son and her own grown daughter and grand-daughter, not to mention the killer who is stalking her and the other revived Eternals.

"The idea came to me in a dream," Tindell says. "I'm always intrigued by the thought of, 'What if'" Tindell's second novel, Heart of the Game, about a high school basketball coach and his son and star player, is being shopped to publishers by his agent. His work in progress is The White Vixen, a spy novel set during the Falkland Islands War. Tindell is wrapping up his second year as president of the Northworders.

Virginia Rasmussen grew up in southern Minnesota and worked as a secretary at a nursing home. Little did she know that job would inspire her to write short stories. "I've been writing for several years," she says. Her poems have been published in area magazines, and her first book, Calico Days and Sandpaper Knights, a collection of short stories, came out in 2001. "The first time you see your name in print, it's pretty nice," she says.

Rasmussen's latest book, Once Upon a Memory, is a larger collection of short stories. At a recent book signing in her hometown of Farmington, the author says she was asked many times by readers about the subjects of the stories. They're based on real people from her life. "Just keep guessing," she tells them. "I'm not going to tell." Rasmussen's work could be labeled literary fiction, stories about men and women of all ages. "Whatever hits my mind when I sit down, that's what I write," she says.

The Northworders meet on the third Tuesday evening of each month at a restaurant in Hayward. For more information about the group, and to find out how to buy members' work, email the writers at northworders@aol.com. And keep an eye on the bookshelves. You'll see some familiar names.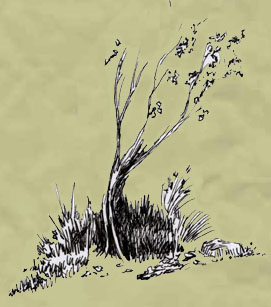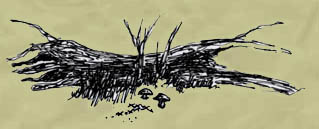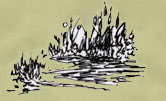 Special thanks to D. James Tindell,
and the
Trailblazer Magazine,
for making the story available to us.