There are quick time movies throughout this page.
If you don't get a movie, just a QuickTime icon,
then you will need to go to the QuickTime site
and download the latest plugins.
Opening date: Saturday, May 9th 2015

Closing date: September 1
Hours of Operation:

* Open Daily - Including Holidays

* May 9 thru May 21
Early season hours:
10am to 2pm Daily
Park grounds close at 3pm

* May 22 thru September 1
Regular Hours - 7 days a week:
10am to 4:30pm
Park grounds close at 5:30pm
OPEN 7 DAYS A WEEK
INCLUDING ALL HOLIDAYS!
A special experience for people of all ages!
Children under 12 must be accompanied by an adult.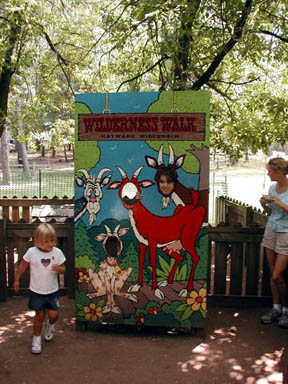 A view of the "Nursery" - a petting zoo for the kids
RATES (Plus Tax on all tickets):

* Adults (Ages 12 & over) $13.95

* Children (Ages 2-11) $9.95

* Seniors (Ages 65 & Over) $11.95

* Children (Under 2) FREE

* Group rates available (10 or more)
We NOW ACCEPT Discover Card along with Mastercard, Visa, debit cards, travelers checks, and cash. No personal checks.
Come visit "Charlie" the Cougar
Come visit our Albino Wallaby!
Born spring, 2006.
* Feed the Deer
* Learn About Animals
* Play with the Baby Animals
* Eat at the Cafe
* Stroll Thru the Woods
* Bring a Picnic
* Tour the Mystery House
* Bring Your Camera
* Pan for Gold
* Visit the Farmyard
* Conquer the Maze
Visit our Timberwolves!
Sadie (Gray) & Sammi (Black)
* Wild Northwoods Animals
* Farm Animals
* Animal Nursery
* Western Town
* Gift Shops
* Food
* Picnic Area
* Playground
* Walking Trails