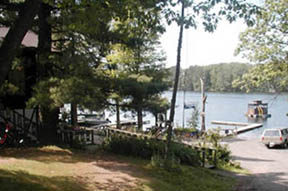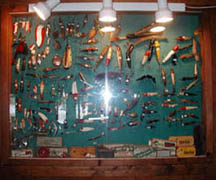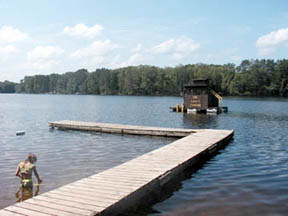 The "Loose Caboose" swimming raft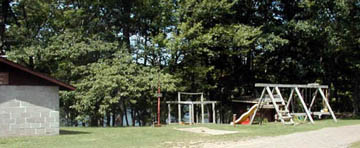 Children's Playground
Callahan Lake Resort & Campgrounds is unique offering the ultimate in natural wilderness beauty and full spectrum of family pleasure. Although only 13 miles from Hayward, it is discreetly "hidden" in the vast solitude of the northwoods. The resort and campgrounds are located on the shoreline of Callahan Lake, a lake long known to be one of the most active musky and largemouth bass fishing lakes in Wisconsin.
Appealing to all ages, the resort is complete with cottages, campgrounds, a recreation lodge, full liquor bar, lunches, beach, boats, canoes, pontoon, paddle boats, displays of antiques, a collection of old fishing lures, and a Craft and Antique Shop. The atmosphere is rustic, comfortable, friendly and very "homey". The ultimate magnetism is Callahan Lake and its surrounding area, which leave people in awesome disbelief that such an unpopulated, untouched, natural wilderness still exists.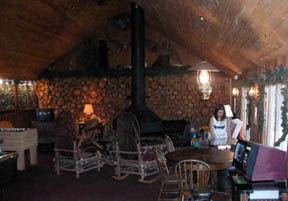 Above, below and left: scenes from inside the lodge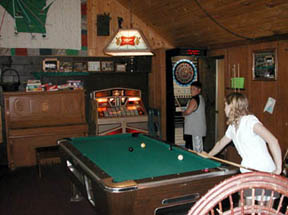 You'll love the cottages with their Scandinavian chalet design in a wooded hillside setting. Besides being modern, full housekeeping and clean, they've been decorated with that "personal touch" - such as homemade patchwork quilts for each bed. They are a home away from home! The Main Lodge warmly welcomes all visitors and is a nostalgic venture into the "good old days" with its rustic comfortable decor. It has a small family-type full liquor bar, a "candy corner", light lunches, an open-pit natural rock fireplace, games, pool table, juke box, and a TV. It is fully carpeted and has an intriguing wall of rounds of natural timbers. Full windows give a panoramic view of the lake from the Lodge. This is an amazingly "versatile" facility. It's a fun gathering place for families and friends, with sing-a-longs, "spontaneous" entertainment, or the exchange of "big fish stories". On a Sunday, the Lodge may resemble a "chapel" (convenient church services for fishermen!) Or may be full of balloons for a Birthday Party.
Campers will enjoy the un-crowded, wooded campsites with electricity, picnic tables, shower house, playground and a water fill and sanitary station. , There are lakeside sites and centrally located sites which still give a view of the lake. Areas for group camping and extended stay camping are available.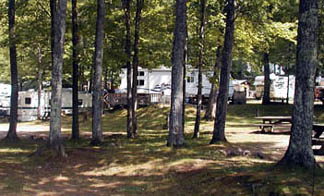 Callahan Lake and surrounding waters were combined several years ago by a system of dams and spillways to result in flowage type waters. With floating bogs, islands and natural underwater structure, it is excellent reproduction waters for musky, largemouth bass, walleye and panfish.
The area surrounding Callahan is heavily wooded, therefore, it is a safe and protected lake to be on even when it may be "too rough" to be on other lakes in the area. The lake is approximately 580 acres of clear water with a maximum depth of 18 feet. The resort has a sand beach with a roped-in swimming area for the children. The entire shoreline at the resort is shallow and safe for fishing off the docks.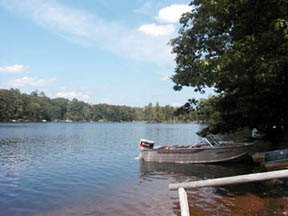 Callahan Lake as seen from one side of a
Callahan Lake Resort and Campground Boat Ramp
Camping

Nightly Camping - Camping - Electrical Hook-Up
- Extended Camper Parking - Permanent (Year Round) - Off-Site
Camper Storage (Per Day) - Campground Pets (Per Day)

Facilities Available to Guests
- Campground Flush Toilets
- Campground Showers (Coin Operated)
- Firewood (5 Pieces)
- Ice Cubes (in Lodge-Per Bag)
- Freezer Service (In Lodge)
- Fish Cleaning House
- Dump Station
- Water-Fill Station (Campgrounds)
- Use of Recreation Room for Gatherings