Caught In Time Northwoods Wisconsin Memories and Gifts
---
Dreams of Yesteryear Bed and Breakfast

1100 Brawley St.
Stevens Point, Wisconsin 54481
(715) 341-4525

www.dreamsofyesteryear.com
If you need map directions to any of these towns, please use this link: Yahoo Driving Directions
---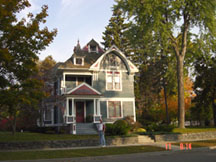 -- The B&B we stayed in is Called "Dreams of Yesteryear" and is located just off of water street near the downtown area of Point. The house is old victorian from just after the turn of the century and features over 4000 sqr ft. of space, all decorated beautifully. Price to stay in their better rooms was under $200 a night which is still better than most 4 star hotels in downtown chicago.

Thanks to our visitor for sending us these photos and this recommendation to
Caught In Time!

Have a cool place to recommend to us?
Please email us with the details!
TOP
BACK TO "PLACES TO GO" MAIN PAGE