Caught In Time Northwoods Wisconsin Memories and Gifts
Caught in Time Hobbies
When we can't be in the northwoods we try to pass the time with fun restoration or collection projects.
We thought this might be a good section to add as a fun diversion.
Enjoy and comment if you have some good stuff to relay! tomcat7918@charter.net


Restoring Carousel Horses!
---
Sally, a circa 1895 Armitage Herschell Carousel Track Horse
that was later converted to a pole carousel horse (by the carnival people who used her)
A "pole" carousel horse is one that we are all accustomed to seeing:
has a pole through the center of the horse and usually jumps up and down.

Winter Carousel Horse Restoration Project 2007-2008
---
Rudy, a circa 1905 Herschell Carousel Track Horse
Check out Rudy Here!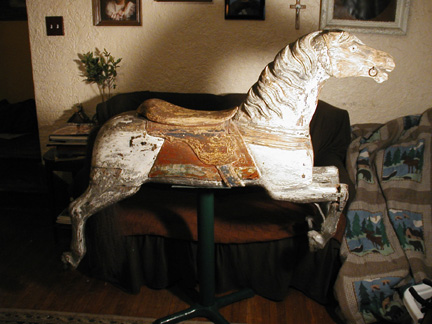 ---
We just have acquired a new horse!
A circa 1900 Herschell Carousel Track Horse
Fall 2008 Restoration project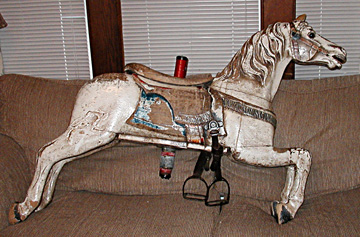 ---
**BTW, we are always looking for the next 'basket case' project horse to restore. Why not?
We love them so much! If you have or know anyone who has a carousel horse that
needs some TLC and a new home, please contact us! tomcat7918@charter.net
TOP